Voice is produced by vibratory movements of two vocal cords situated in larynx.
Vibratory Mechanisms in Larynx: Pitch of sound depends on period of vibration of cords. Pitch is varied by regulation of tension of cords, variation of length of vibrating cord from broad and thick to thin and narrow, shape of free margin of vocal cord and infraglottic pressure. Suction force by the Bernoulli effect producing vocal cord vibration during phonation is very important aspect to be taken into account while treating voice disorder.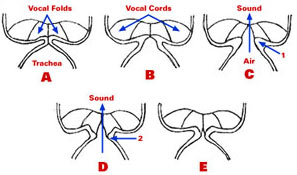 Larynx from inside Mechanism of voice production
Vocal cords closed immediately prior to phonation (voice production).
Air pressure develops below vocal cords because of air from lungs during exhalation.
Vocal cords separate briefly with the release of air. (1) Arrow points to the upper edge of the vocal cord.
Vocal cords re-approximate. (2) Arrow points to the lower edge of vocal cord.
Vocal cords together again.
Articulation of Voice
Final modification of the voice occurs in the vocal tract above the level of larynx which comprises of mouth, nose, and throat, where the tongue, palate, cheek, and lips are involved in articulation (speech production).